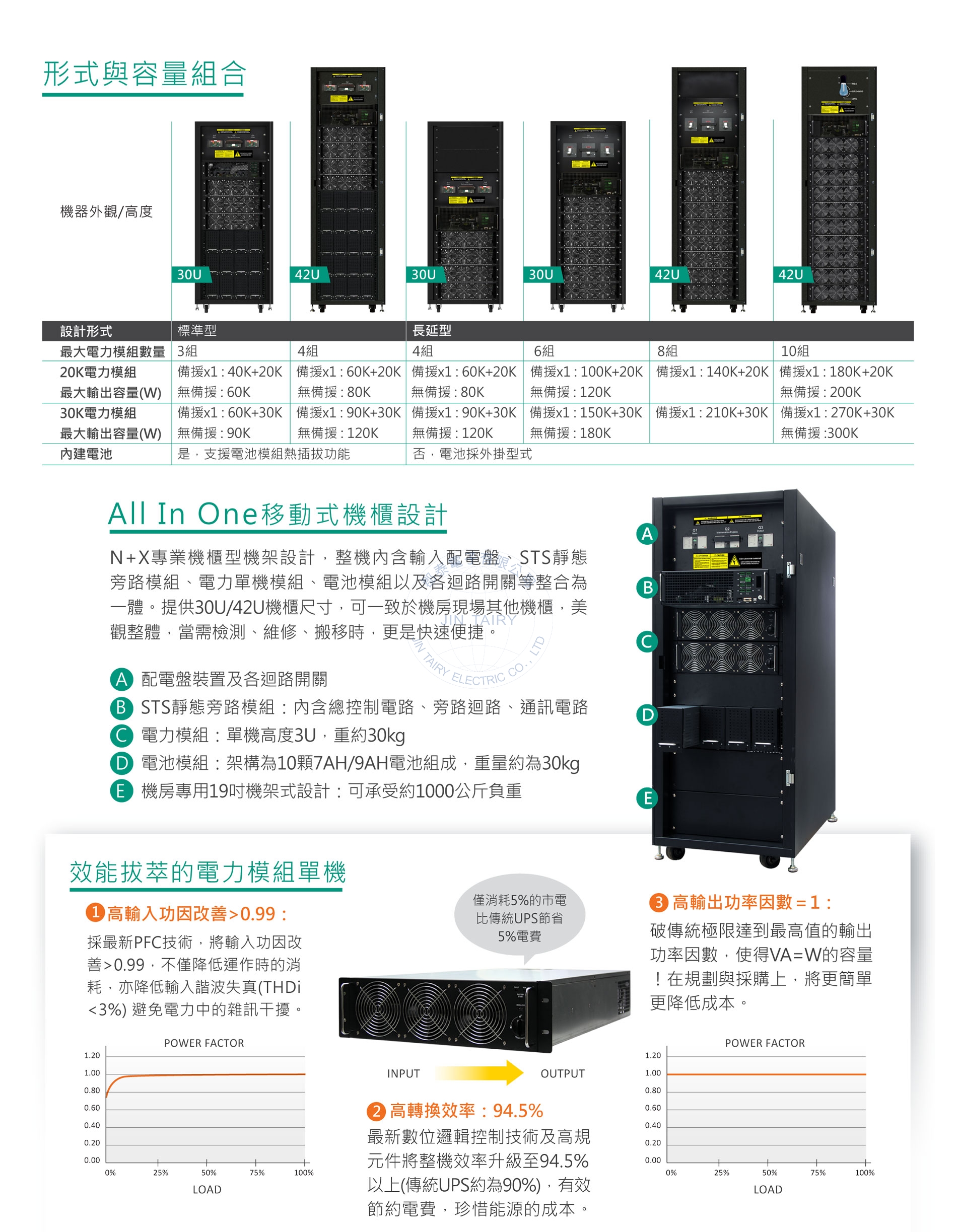 Model
UPS FT-UP30U
UPS FT-UP42U
Cabinet height
30U
42U
Single power module output capacity (W)
20K or 30K
The efficiency of the whole machine
94.5%; On-Line online double conversion design
Enter
Voltage
415/240V or 400/230V or 380/220V (three-phase four-wire), also can be specially designed according to requirements
Voltage range
208V~478V @ <70% load; 305V~478V @ 100% load
Frequency
50Hz or 60Hz (automatic detection)
Frequency range
40Hz~70Hz
Work factor improvement
≧0.99
Harmonic Distortion (THDi)
≦3%
output
Rated voltage
415/240V or 400/230V or 380/220V (three-phase four-wire), also can be specially designed according to requirements
Rated frequency
50Hz or 60Hz
Stability
rated voltage ± 1%; rated frequency ± 0.1Hz
Waveform
Pure sine wave
Crest ratio
3: 1
Power factor
1
Harmonic distortion (THDv)
≦2% @linear load; ≦4% @non-linear load
Conversion time
Zero conversion
Battery
Type
Lead-acid water-free and maintenance-free closed type
Battery pack
A single battery bar can hold 10 7AH/9AH batteries, and the working voltage is 240+240VDC
Discharge time
Configure the battery pack according to customer needs to meet the discharge time
Charging method
Microcomputer controlled intelligent charging to extend battery life
Replacement method
The hot-swappable modular design can be used for mutual assistance. When replacing, it will not affect the normal operation of the UPS (only models with built-in battery)
Protect
With battery overcharge and discharge, battery overheating and battery short circuit protection
Operation tips
LED lights
With mains normal, bypass power supply, UPS operation, battery supply and UPS failure lights
LCD panel
With UPS status and operation instructions, including input/output: voltage/current/frequency/actual power/apparent power/power factor , Load: capacity/percentage, battery: voltage/current/capacity and UPS fault display records (up to 500 records)
Alarm sounds
Battery discharge: one beep every two seconds; battery low: one beep every half second; output overload: one beep every second ; UPS abnormal: long beep
Display panel
5.7-inch LCD display panel for easier and quicker operation of UPS, and 10.4-inch touch-type color display panel is optional
Panel monitoring
The LCD panel can record abnormal voltage/frequency and load warning range according to user settings.
Communication interface
Standard configuration
RS-232/ USB / smart card slot
Optional
Expansion card slot: provide smart card slot/RS-232/dry contact/external temperature detection
Machine function
Modularization
The whole machine adopts modular design to achieve rapid detection and convenient replacement
shared battery pack
The shared design of the battery pack can ensure the average battery charge
Password maintenance management
To avoid operation by non-maintenance and management personnel, the LCD panel can set a password by itself. When the system is modified or the UPS is turned on, the correct password must be logged in to operate
N+X hot redundancy
Hot redundant parallel connection function, with future expansion capability, when the system is operating normally, each single power module will automatically share the current output For the back-end load; when any power module fails, the rest of the normal modules will automatically connect to supply all loads, and the power protection capability of the equipment will be increased to the highest point
Across cabinets in parallel
Supports the parallel connection of cabinets of the same type, which can be designed to increase capacity or redundant use according to the client's design
Overload capacity
101%~110% supply for one hour; 111%~125% supply for ten minutes; 126%~150% supply for one minute; > 151% provide 200ms and then switch to bypass. After the overload condition disappears, the system will automatically switch back to the inverter power supply mode.
Warning display
With buzzer sound and panel display dual prompt
Protection circuit
With output short-circuit, UPS leakage, input lightning surge protection, over-temperature protection and overload protection
ECO mode
Provide ECO power saving mode, increase performance to 98%, and achieve the purpose of energy saving and power saving
Automatically turn on
When the utility power fails and the UPS is discharged to automatically shut down, the system will automatically charge to the set battery voltage value when the power is restored, and the UPS will automatically Turn on (set the voltage value on the panel)
Other functions
With non-disruptive manual maintenance bypass function. No need to interrupt the backend load
Web/SNMP management interface
The SNMP network management card can be installed to remotely manage the UPS
Temperature detector
Optional temperature detector, with expansion card slot for ambient temperature detection
Monitoring software
Support Win 2000/XP/Vista/7/8/10, Win Server 2003/2008/2012/2016, Linux, Unix and Mac systems
Safety certification
With the Commodity Verification Registration Certificate (BSMI) of the Bureau of Standards, Metrology, Inspection and Quarantine of the Ministry of Economic Affairs, the Fire Safety Equipment Audit and Approval Certificate of the Ministry of the Interior, CNS14843-1( 1993 edition) and CNS14757-2 (99 edition)
Noise (within one meter)
≦70dBA
Use environment: temperature/humidity
0℃~40℃; 0%~95% (non-condensing)
Dimensions, length x width x height (mm)
1100 x 600 x 1475 (30U)
1100 x 600 x 2010 (42U)
*If there is any change to this product, a specification confirmation will be attached separately.
*For more detailed information, please call to contact the specialist.